You're enjoying a nice cold beer with your friends, but hunger strikes, and you still don't have a peanut in the house? Take advantage of these simple but delicious bites/snacks that do not require many ingredients and can be prepared quickly!
1) Garlic Mushrooms with Ham and Cream Cheese
Heat the oven to 180ºC. Butter a baking tray and place the mushrooms, strips of ham, and garlic on top. Add a few spoonfuls of cream cheese and put it in the oven for 15 minutes. Season with salt and pepper and sprinkle with a fresh herb, such as parsley, if desired.

2) Parmesan Biscuits with Chili Dip
Heat the oven to 200ºC. Grate 200 g of Parmesan cheese. Cover a baking tray with baking paper and make thin circles of cheese on it. Heat for five minutes and then leave to cool. Carefully remove the kletskoppen from the baking tray and serve it with chili or other sauce.

3) Savoury Bread Pudding
Heat the oven to 180ºC. Beat five eggs with 500 ml of whipped cream or milk. Season with salt and pepper and soak ten slices of stale bread in it. Line an oven dish with the bread and pour in the remaining egg mixture. Fill the bowl with the leftovers, such as spinach, bacon, and cheese, and bake for 25 minutes.

4) Fried Onion Rings
Cut four white onions into rings, beat two eggs, and season with salt and pepper. Place the onion rings in the beaten egg. Roll the rings in 150 g of flour and fry them in a fryer or low oil until they are golden. Drain them on kitchen paper.

5) Crostini with Olives
Heat the oven to 180ºC. Cut the baguette or ciabatta. Sprinkle with olive oil and salt and pepper. Place the slices on a wire rack and put them in the oven for eight minutes. Chop some olives into large pieces and add garlic and finely chopped parsley. Sprinkle the crostini with the olive mixture and serve immediately.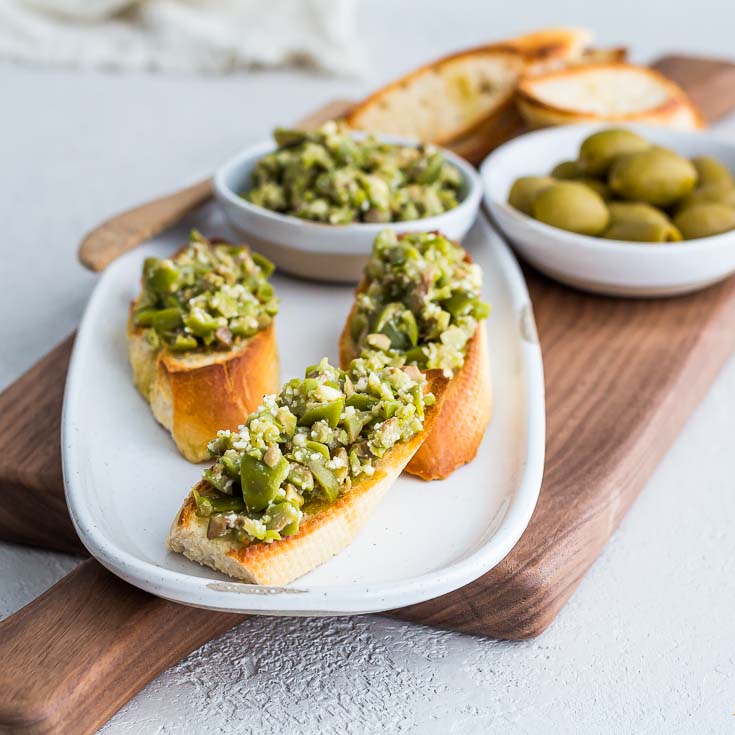 6) Canned Tuna With Cheese, Capers, and Red Onion
Heat the oven to 180ºC. Prick the canned tuna using a fork. Sprinkle with chopped red onions, grated old cheese, and put some apples on top. Put the can in the oven for ten minutes and serve immediately. It's also delicious with fresh bread!

7) Carrot Dip
Chop a carrot and put it in 100 ml of boiling water. Cook it for fifteen minutes and mash it with a hand blender until it is soft. Add a teaspoon of curry and a teaspoon of ginger, season with salt and pepper, and serve with bread.

8) Warm Camembert with Honey
Heat the oven to 180ºC. Make an incision in the camembert with a sharp knife. Fill it with a spoonful of honey and sprinkle the cheese with crushed nuts. Place it in a baking dish for eight minutes with the box and serve it hot.

9) Sardine Stems
Heat the oven to 180ºC, cut two slices of puff pastry into horizontal quarters. Spread the strips with a finely chopped sardine and turn them into wokkels. Place the wokkels on a baking tray covered with parchment paper, brush with coffee cream if necessary, sprinkle with dried oregano on top and bake in the oven for eight minutes.

10) Spring Rolls With Leftover Chicken Zucchini, Carrot, and Peanut Sauce
-Cut the chicken into strips and fry them until crispy in some butter or olive oil (if necessary). Season with pepper, salt, and a little cayenne pepper.
-Chop some shallots and cut the zucchini using a spiral cutter. Stir fry the zucchini ribbons and the chopped shallot in a wok pan with some oil.
-One by one, soak the rice paper in warm water for 30 to 90 seconds. Place it on a clean work surface.
Put some fried chicken strips, some zucchini ribbons, and grated carrot in the middle, sprinkle some sesame seeds on top, and roll up the spring rolls.
Serve with peanut sauce or chili mayonnaise.
Have you ever tried any of those scrumptious snacks? Let us know in the comments below!