More than just a wedding band, a ring represents the visible sign of a mutual commitment and marriage. This is why the ring must correspond to your liking since you'll be wearing it every day. If you want to have a wedding ring with a design of your own, there are many more choices than just traditional diamonds. Here are some different types of stones that you may use to create a unique wedding ring if your price range allows it.
1) Amethyst
For your wedding ring to stand out, you can pick one with a purple stone. Moreover, if you like purple, this stone will be stunning on a wedding ring when well-cut. It is also very durable and less expensive than a diamond. You can choose to have the stone set with other colours for a truly distinctive look. For instance, if you fancy rose gold, amethyst is the ideal stone to set on a rose gold wedding band.
2) Turquoise
If you are looking for something more modern, the versatile and trendy turquoise ring can be an excellent choice. This stone comes in bright blue or a little lighter, with copper and aluminum reflections. Additionally, it is very stylish and can be found in many ethnic, gypsy and bohemian jewelry collections. What more could you ask for?

3) Ruby
The ruby can be the ultimate choice when it comes to wedding rings. It is one of the few gemstones that will look as alluring as the first day you bought it, even several years from now. Similar to diamonds, this red beauty is also very durable. However, they can be more expensive than diamonds due to their high values, origin and colour.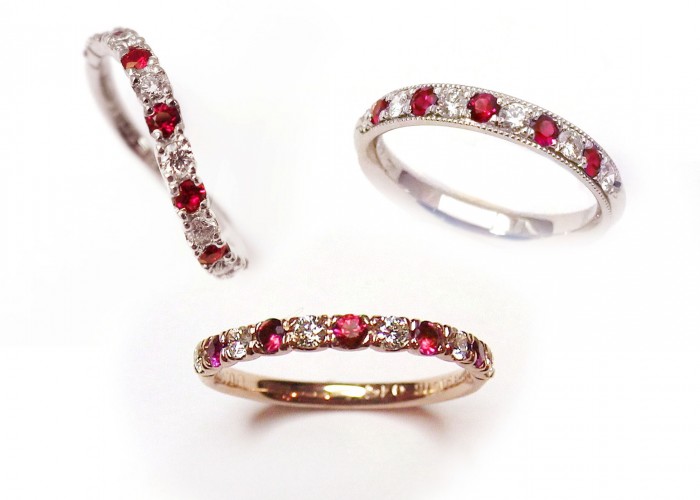 4) Citrines
One can easily see why citrine has emerged as a preferred choice for wedding rings. Citrine colours can range from light yellow and lemon to gold and even champagne brown. The famous "Madeira" citrines boast a rich orange colour with red highlights and are the priciest. Like amethyst, citrines are also very durable and make magnificent ring stones.

5) Pearls
Pearls are making a strong comeback in contemporary wedding rings. Simple and elegant, they have become trendy, especially for those who prefer minimal designs. The myriad of choices available, including freshwater pearls, saltwater pearls, and cultured pearls, make it effortless to find a ring that matches your budget and style. With a little care, pearls can also last a lifetime. Remember that pearl necklace your grandmother left you?

6) Opals
The names of the different types of precious opals evoke their beauty and grandeur: white or black, fire opal, harlequin, crystal, cat's eye, pinfire, and many others. From shimmering eggshells hues to brilliant reds and blues, opals are available in nearly an infinite number of colours and have been leaving lovers mesmerized for centuries. Moreover, they can also be cut in various shapes, and none of them look alike!

7) Peridot
The remarkable green of peridot is usually not appreciated by brides, but it makes a fantastic match complemented with diamonds and will look gorgeous on darker-skinned brides. To create a strikingly colourful engagement ring, combine peridot with ruby, sapphire, and citrine.

8) Topaz
This is another stone that exists in multiple colours, meaning that it will suit almost every bride. The colour fluctuations are due to "imperfections" in the stone, but as it is said, there's beauty in imperfections! The lighter the topaz stone, the more colourless it will be, which signifies the topaz's robust quality and natural state.

If you're having issues choosing your wedding ring, visit the team at Hofland Diamonds INC in Toronto. Their exquisite gems and diamonds, combined with unrivalled craftsmanship, will allow you to have wedding bands to your specifications and personal taste!